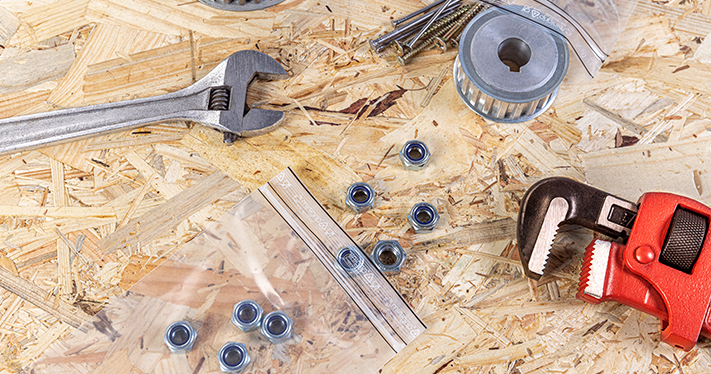 DIY & Leisure activities
Market
Transportation, protection and convenience is the key to DIY and leisure activity packaging!
You will probably find Minigrip® bags in large DIY stores, used as protection and transportation bags. Indeed, for small tools (screws, bolts, nails…), retailers offer more and more retailing possibilities in order to give freedom to consumers to buy the correct quantity that is needed. Buying in bulk is good, but with a suitable container is even better!
The Minigrip® bag has many advantages: a closure system designed for easy opening and ultra-fast packaging, a ribbed and reinforced bag lip for a better grip, and a wide choice of sizes and thicknesses. These are just some of the benefits that have led the DIY industry to use our large range of Minigrip® bags.
The same goes for creative leisure activities, the inevitable Minigrip® bag is the best product to be used for this type of products. Indeed, the arts & craft and leisure activity shops can also offer some individual items (decoration, jewelry, haberdashery, paint…). The Minigrip® bag family is the solution as sometimes these products can also be heavy, sharp or offered in bulk or need to be transported. Moreover, the Minigrip® bag is transparent which enables consumers to make sure that the bag has the right contents at all times.
The Minigrip® bag can also be hung directly on the shelves thanks to its standard hanging holes (round or European – depending upon the reference code) and some bags can be available in 100µ thickness for a greater bag resistance.
Finally, slider bags is also a great option to use to pack merchandise. These bags can be used as "decoration kits" or "DIY kits". Nomadic, aesthetic and easy to use, it is the ideal choice in order to display creative arts products on your shop shelves and to enable your consumers to transport your products back home easily. This bag type is also practical at home as it can be used to store other products but can also be used as a carry around bag. The high quality of the slider can resist many openings and closings.