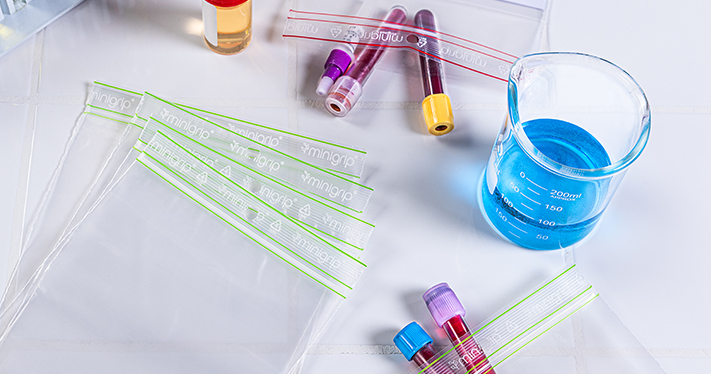 Medical market
Packaging designed for maximum protection!
Whether for medical or pharmaceutical products, as a packaging manufacturer we ensure the maximum protection of your products. It is important to know how to meet the requirements of hygiene and storage. The medical products market is a demanding sector; therefore, packaging requires special attention in terms of hygiene, health security, protection, transport and technical know-how.
We offer our customers tailor-made packaging for their medical accessories.
For instance, our Joker® range of custom-made resealable bags is used by our customers in the medical sector. Conveniently, they can package a wide variety of products in a variety of flexible packaging sizes, closures and options.
Our Minigrip® bags are also used in hospitals and medical centers. Practical and mobile, we offer Minigrip® bags with a kangaroo pocket. This external pocket protects the accompanying documents. This type of bag is ideal for analysis laboratories, dental technicians or any other medical specialties.
We also supply bags for chemotherapy protocols which, once sterilized, are used for patient treatment.
The Minigrip® writing zone bags are also very popular with the medical profession. The three white strips allow you to write with a pen or marker to identify the contents of the bag.
Hygiene is a priority for hospitals, which must be very vigilant in avoiding any external contamination. Flexico strives to offer best healthy and hygiene solutions such as polypropylene bags to protect remote controls and telephones. These bags are equipped with a self-adhesive, tamper-proof flap that must be torn off before use. This bag is removed and changed between each patient therefore reducing the risk of nosocomial diseases.
Slider bags are also popular among our customers in the medical sector. In drugstores, it is quite usual to find slider bags  of as kit containing toiletries, hygiene and beauty products sold without medicalprescription.