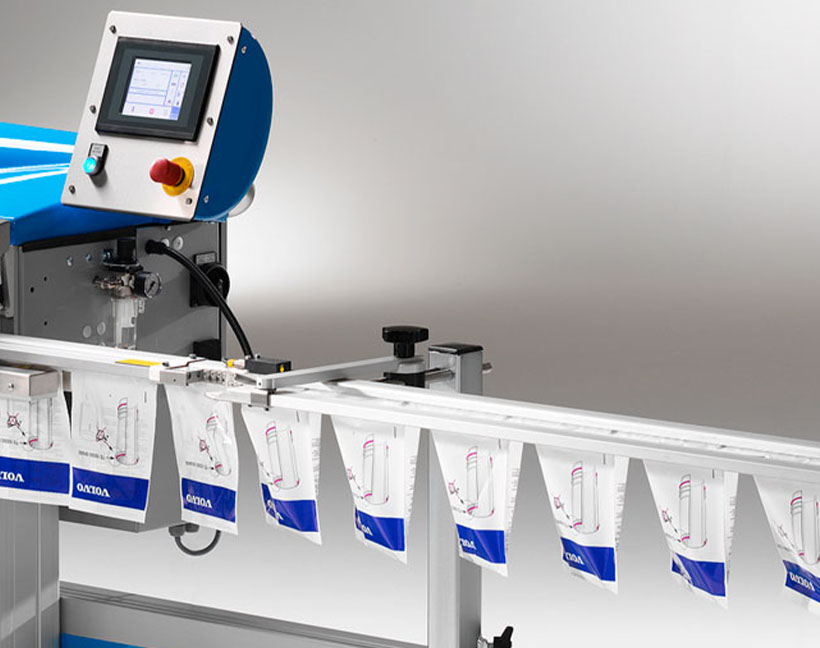 The Joker® solution
The innovation of packaging
The Joker® packaging system is a combination of a packaging machine and pre-made bags. It is flexible, economical, ergonomic and allows a quick and easy change of bag format. This innovative packaging solution is perfectly suited to small and medium-sized businesses looking for a complete solution to speed up production and optimise bagging. It is suitable for all industries and can be integrated into existing production lines.
A system that combines simplicity, flexibility and performance!
A chain of pre-formed, interconnected bags is guided to the filling area by rails, which open the bags by pulling them apart, allowing them to be filled manually or automatically. The bags are then sealed and separated individually. The ease of use of the machine allows the operators to work with complete peace of mind and to carry out the little maintenance work required on the machine themselves without difficulty.
The Joker® bagging machine is very flexible, allowing you to easily change the bag according to your production and to adjust the distance between the rails that carry your bags to the filling point.
A bagging machine that can be customised!
We offer you a complete and flexible solution based on a wide range of standard machines, which are themselves configurable and adaptable. These machines are between 3m and 5m long and 7 references are currently available.
The numerous options provide great flexibility and allow the machine to be adapted to all needs: work table, pedal, support belt, compression and vibration unit, filling equipment, zip, printing, cardboard…
A tailor-made partnership
Much more than a packaging system, you will also benefit from Flexico®'s expertise and support in :
Choosing the best suited machine to your needs from 7 models. Designing the format and material of the bags (PE, complex PP).
Supporting you in launching your production: installation and on-site training
Improving your productivity (from 30 to 50 bags/minute excluding printing) and your competitiveness
Offering a close and responsive after-sales service (1 sales representative, 1 technical sales representative, 1 Methods & Process Engineer)
With the same machine, the Joker® system allows a wide variety of products to be packaged in flexible packaging of different sizes, closures and options.
The opening of the bags can be adjusted to the shape and size of the products to be packaged. As a manufacturer, Flexico® offers a wide range of customised reclosable pouches to use with Joker® machines.
Discover the Joker® range