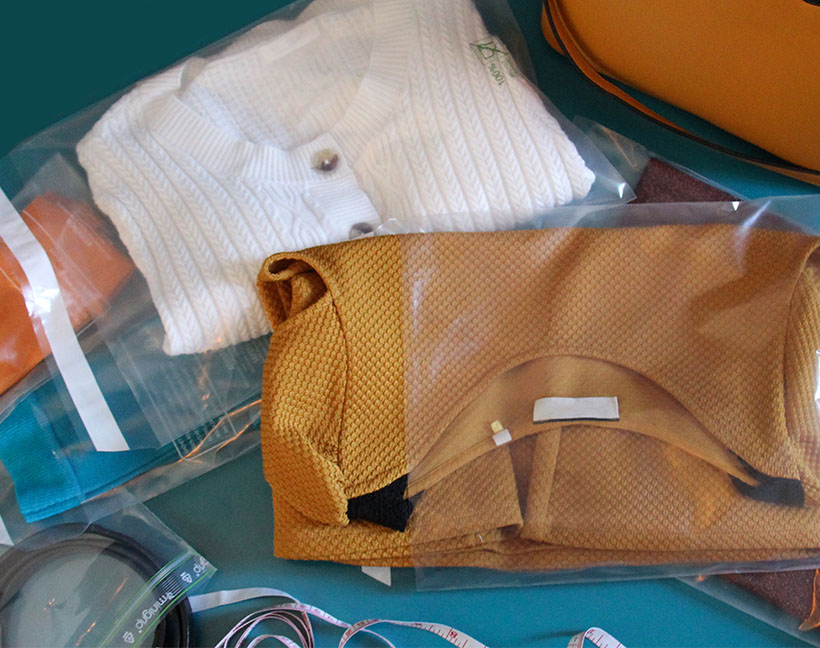 Fashion market
What is the right packaging for ready-to-wear?
Textile: 
Packaging for clothing products must offer a solution for displaying the product on the shelf, be seen by the consumer and sometimes even allow him to touch it. In this case, the packaging is much more than a simple protection, it becomes a multifunctional asset.
The adhesive flap packaging allows the bag to be manually packed and easily closed and can be offered with a repositionable or permanent adhesive flap.
Flexico® bags are made of either 100% recyclable polyethylene, which gives the bag an authentic look or polypropylene which ensures perfect transparency and a better display of the products. Moreover, the repositionable adhesive flap allows you to test and touch the product before use without damaging the packaging.
We also manufacture adhesive bags with reinforced hanging holes, welded or inserted hooks to easily hang a product and thus improve its visibility in stores.
The slider bag is also often used in the fashion industry to highlight clothing, accessories and haberdashery.
Customizable, the slider bag turns into a pouch for a beautiful product promotion while providing a sensory aspect and a qualitative visual impact.
The slider bag is not a single-use bag; when purchased, it begins its second life. It is reusable many time and can be used as a second hand storage bag, for underwear in a dressing room or suitcase.
The plastic bags are adapted for the sale on Internet, they protect the product during the transport so the final customers receive the product without deterioration. These bags are transparent and show the product before opening it.
The solutions for the fashion market