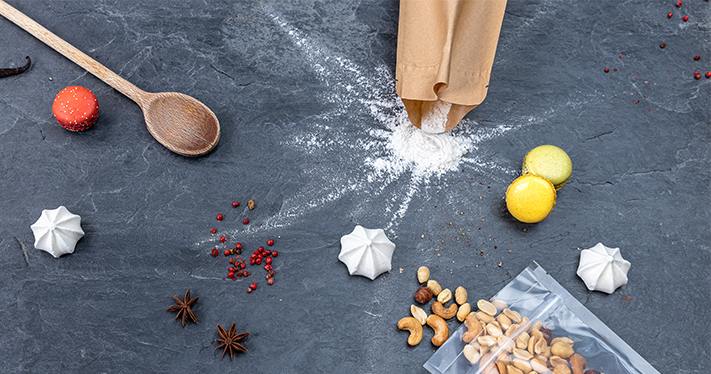 Food market
What if you choose flexible packaging for your food products?
Flexible packaging offers many advantages such as a better protection of the product, a more convenient use, a protection (or barrier) against humidity and odor transfer. It makes packaging lighter and reduces logistic costs… But above all, it offers the possibility of using the product by portions as an answer to food waste problem. Indeed, 1/3 of the global production of foodstuffs dedicated to consumption is wasted, which is why it is a major challenge for manufacturers to find ways to reduce this waste*.
To fight against this scourge and to meet consumers' needs, Flexico® offers a complete range of  bags and pouches as well as a wide choice of sealing systems that you can weld onto your packaging.
Today, consumer needs are evolving: 85% express a preference for a reliable reclosable package and 74% prefer a package that is easy to open. Integrating a Zip into your packaging allows you to open and close the package at will, and radically improves the user experience.
Finally, 92% of consumers want packaging that preserves product freshness**, which is why we have designed the most hermetic multi-hook zip solution on the market. By preserving the freshness of the product in an optimal way Sensogrip® contributes to limit food waste.
Our customer Lactalis chose to use our Sensogrip® ZIP on their President grated cheese bags. Easy to open and close, airtight, practical and guaranteeing product freshness… are the mains reasons why this manufacturer chose our Sensogrip® closure profile.
The petfood market is also concerned by the essential role played by packaging. The packaging of the products is crucial to guarantee the freshness of the products, the hermeticity as well as the barriers to the odors. Many manufacturers in the sector have decided to equip their pet food bags with a zipper, for a better preservation and conservation of the food.
*www.fao.org
**Mintel : Key packaging trends for 2016
The solutions for the food market