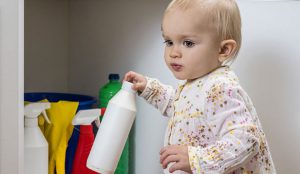 According to the Association Prévention Attitude, 11 million people are victims of a domestic accident in France every year. It is even the first cause of death for children aged between 1 and 4 years.
Packaging containing dangerous products must comply with strict European and national regulations. Among these requirements is the obligation for packaging to have a child-resistant closure, or CRC. CRC-certified packaging is child-resistant, ensuring maximum safety and protection for children.
In this article, find out how CRC (Child Resistant Closure) certification ensures that packaging is child resistant and provides maximum protection for children.
Child Resistant Closure certification: child-resistant packaging
The example of the CRC safety cap
Child Resistant Closure" or CRC certification is awarded to packaging containing potentially hazardous products that have a child-resistant closure. The CRC closure is one of the most common applications. The packaging is a combination of a container and a secure closure system. The purpose of this system is to make access to the contents more difficult for young children, who will find it difficult to open the safety cap on their own.
On the other hand, the CRC system always allows an adult to open and close a package using a suitable safety mechanism. There are different types of opening mechanisms available for CRC closures. The idea is to combine two different movements in order to make access more difficult and therefore safer for children. Push-Unscrew", "Pinch-Turn", "Pinch-Unscrew", "Pinch-Pull", etc., are among the most common combinations of CRC cap opening movements on the market.
CRC safety caps are mostly used to secure household products
The regulation imposes intense test phases according to the safety standards in force in Europe. Thus, each safety cap put on the market must first pass an experimental opening test phase carried out in real conditions. A panel of young children as well as a panel of adults test the safety of the opening of the cap but also that of the whole bottle. This testing process, which is relatively long and costly for companies, is mandatory for the packaging of products containing dangerous elements intended for the European market.
Today, the majority of CRC safety closures use a system based on two simultaneous gestures. As this solution has proven itself, the Child Resistant Closure has naturally spread to almost all child-resistant closures for bottles containing hazardous materials. It should be noted that each modification of the cap and/or bottle must be re-approved by an experimental test to verify the effectiveness of the child-resistant closure system.
These CRC closures are inherently heavier and therefore bulkier than closures for non-hazardous products. In this context, it is difficult for manufacturers to consider a real optimization of these closures, notably through a reduction in weight, without risking non-approval during the product safety testing and qualification phases. The same type of safety cap has been on the market for many years without any real evolution.
Safegrip® by Flexico® : the CRC certified closure
Safegrip® by Flexico® the first patented Child Resistant Closure (CRC) concept
Flexico® has developed Safegrip®, the first patented CRC (Child Resistant Closure) certified closure concept for flexible packaging available on the European market.
Safegrip® is designed to reduce the risk of accidents in the home for young children, especially those related to the ingestion of dangerous or potentially corrosive products. Flexico®'s desire to work towards better protection for children was rewarded twice in 2017. For example, the Safegrip® concept was recognized at the Pack The Future competition in the social benefit category and received an award at the Packaging Oscars.
The Safegrip® concept is based on a patented system that forces the opening of the package through a coordination of different movements using both hands. This complex system makes it more difficult for young children to access the product contained in the package as they cannot open it in less than 5 minutes. The Safegrip® system is CRC certified, but can be easily opened and resealed by adults and seniors. It is equipped with a sound and touch effect to ensure that it closes properly.
The CRC closure system is an important deterrent for children, protecting them from the risk of poisoning from contact with dangerous products.
On the other hand, the practical implementation of a CRC system can be done relatively easily and quickly and does not require any special investment. Indeed, the Safegrip® concept is quick to implement and can be adapted to various markets: detergents, medical and pharmaceutical, DIY, tobacco, or even battery systems.
Find all our certifications! Don't miss our White Paper on the Reform of the Circular Economy!