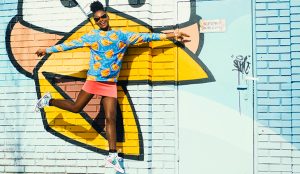 Youth has grown up with a pop culture based on advertising, fast food and fashion. Their relationship to consumption is almost that of an addiction, or at least a real desire to appropriate it. Consuming is nowadays easier, faster, more tempting. On the networks, young people post their latest acquisitions in the hope of getting more and more likes and followers. But what generation Y and Z are looking for is much more than a simple transaction. The buying process must be driven by a new experience, a curiosity, an innovation. Young people like to surprise and be surprised: buzz has become a guarantee of consumption.
Young and dynamic generations in search of novelty
Generation Y is a group of people born between 1980 and 2000. Deeply inspired by the web culture and new technologies, they grew up with the appearance of the computer, the advent of television in all homes, and the smashing success of video games. On the consumer side, brands are inspired by these digital phenomena and offer products derived from their favorite shows or their favorite cartoon characters. The marketing strategy of the industries works perfectly: young children and/or teenagers demand a product not for what it is, but for the "gift" that its packaging contains.
Ultra connected, this generation has witnessed the emergence of the Internet and the cell phone. They are therefore particularly adept at manipulating digital objects. Thanks to digital technology, they discover, research, create, share… The world of consumption, even overconsumption, is an integral part of their lives.
But for these generations, there is one essential point: being stimulated. Yes, generations Y and Z constantly need novelties, challenges, dynamism. This is why their relationship to consumption is not that of the buyer and the bought. On the contrary, the consumer becomes both a spectator and an actor when faced with a product: he or she expects to be surprised while enjoying taking part in the emergence of the surprise.
Finally, generation Z, which closely follows generation Y, is even more imbued with digital culture. Image – and its reflection on social networks – is fundamental. We buy what we are, we are what we buy. Very concerned about the opinion of "influencers", Millenials do not hesitate to get information before buying. The role of these digital promoters has a striking impact on the relationship of the young adult or teenager to the product: a praise will be enough to boost sales, a bad buzz could jeopardize the brand…
Therefore, it is important to target the expectations of these young generations. What exactly do they want to consume?
Eco-responsibility and interaction: the keys to a successful business strategy
To satisfy the expectations of this type of clientele, certain specific requirements must be met. Generations Y and Z are more concerned with organic farming, respect for the environment, the gradual disappearance of plastic or its total recyclability. Added to this is the desire to acquire products that, visually, appeal to them and could potentially appeal to others. The social isolation, created in part by the Internet, gives rise to new needs: to feel concerned by the product and to be able to interact with it.
Ethical and eco-responsible ranges
These consumers are also willing to pay for more ethical and responsible products. It is estimated that 58% of Chinese people living in mainland China are willing to pay more for brands that invest in more ethical production. Recycling is also a very important element: young people care about the environment and try to participate in the preservation of their planet. For them, but also for the generations to come.
The interaction
Finally, young consumers need to be seduced by the product. To achieve this, the major brands are setting up very effective interaction systems: for example, the Last Wine Company has created a wine that refers to the universe of the hit series The Walking Dead and offers its customers to scan the bottles to access a unique augmented reality animation.
Seducing these young generations is not easy: going further and further is a constant objective. Because if young people like the new, they also get tired of it very quickly. The race to surprise then becomes a real frantic marathon for brands…
Find all our bagging solutions! For more information, please contact us and download the Packaging Guide on the theme of Bagging.