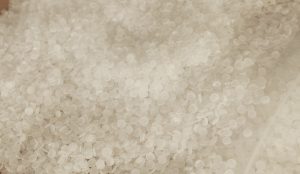 Some plastic packaging can be recyclable and some recycled. The latter type of plastic is then given a second life in various applications, sometimes for new packaging. This article will review the current situation in this respect, based on the regulations. Finally, it will attempt to list the benefits and barriers to the use of recycled plastic in packaging.
Recycled plastic in packaging: the state of play
At present, recycled plastic cannot be used in food contact packaging, with the exception of bottles. However, it is widely used in household and industrial packaging. A study by the National Packaging Council, published in January 2019, sets out the situation in France.
Recycled polyethylene in food packaging
France puts between 300,000 and 350,000 tons of PET bottles on the market each year. Just over half of this is recycled, i.e. between 170,000 and 200,000 ton, 75% of which is light-coloured. In 2016, 43% of this recycled clear PET, also known as clear rPET, went into the manufacture of PET for new bottles. This increased to 50% a year later, equivalent to around 70,000 tons. The rest of the PET, both light and dark, is mainly used in the manufacture of textile fibres.
The reason why the proportion of recycled light PET is much higher than that of dark or opaque PET is because of the additives that give it its colour. This makes it more difficult to recycle. Manufacturers therefore prefer PET without dyes in order to maximise the yield during recycling.
Other plastics recycled but not incorporated into food containers
Four families of plastics are mainly recycled in France and then used to make new packaging. These are high and low density polyethylene HDPE and LDPE. The outlets are specific to the material.
For example, HDPE (recycled HDPE) is used in the manufacture of pipes and automotive parts, etc. LDPE is used in bin liners and palletising film.
What does the regulation say about the use of recycled plastic in packaging?
In December 2018, an agreement was signed at European level. This is the SUP Directive for "Single Use Plastics". This agreement states that by 2030, all new plastic bottles must contain at least 30% recycled material.
Concerning the suitability of recycled plastics for food contact, a regulatory framework was defined by Commission Regulation (EC) No 282/2008 of 27 March 2008.
More recently, at the beginning of the year, France adopted the law on the circular economy. It paves the way for an obligation of minimum incorporation of recycled material for certain products and materials. Implementing decrees will specify these elements at a later date.
Generally speaking, the regulations are poor in offering solutions to known issues. However, despite the well identified obstacles, manufacturing new packaging using recycled plastic would present benefits, particularly for the environment.
What are the benefits and obstacles to incorporating recycled material into plastic packaging?
France is aiming for 100% recycled plastics by 2025. Behind this wishful thinking lies a more mixed reality. First of all, given the current state of knowledge, plastic cannot be recycled indefinitely. Moreover, once recycled and incorporated into other non-recyclable products, it only ends up in an incinerator. Therefore, there are many barriers to the use of recycled plastic in new packaging.
Reasons for not using recycled plastic in packaging
Qualitatively, recycled plastic contains all sorts of pollutants that it absorbed during its previous life, especially as waste. The cleaning process as it is currently carried out does not remove them, reducing its intrinsic qualities. The benefits are therefore limited by this aspect and food contact can in no way be part of it.
The case of PET seen above is slightly different, but its purity is still deteriorating. It can therefore only be recycled once for food contact. Beyond that, it will have to be used for other products.
Finally, the economic aspect is not neutral either. Indeed, the resources of recycled plastics remain low. However, the manufacture of packaging requires a lot of raw material and must be guaranteed in all circumstances. Relying on recycling to provide this raw material is currently too delicate. Moreover, obtaining pure recycled plastic for certain uses is sometimes more expensive than the cost of 'new' material from natural resources such as oil. In this respect, recycled plastic is still struggling to becoming competitive.
Environmental benefits argue for the use of recycled plastic in packaging
If research and development of new techniques could remove these barriers, there are a number of benefits that could argue for the incorporation of recycled plastic in new packaging.
Recycling is therefore beneficial. It has been proven that producing one ton of recycled plastic requires up to nine times less energy than 'virgin' plastic. This is the equivalent of two to three tons of carbon equivalent not being produced. These figures vary depending on the family of plastic:
recycling one ton of PET saves 83% of the energy used to manufacture one ton of virgin PET;
For HDPE, this figure rises to 89%.
Finally, as far as consumers are concerned, a Citeo-Ademe study published in 2014 revealed that the presence of recycled materials in packaging was well perceived by 61% of French people.
> To find out more about Flexico's waste management policy, visit the Flexico, an eco-responsible player page.
> To find out more, read our White Paper on the Reform of the Circular Economy.